Working a half day means the "day" flies by. Or so it would seem when I worked until one last Thursday before leaving for Southern California.

I went with my friend Anj, my fellow Dave-head, and we were both more than ready for a mini-getaway! Airport security was painless, and I blazed through in no time, allowing me to grab a snack in lieu of a proper lunch. 'S okay, I'm not much of an eater before flying, as I get horrendously motion sick, and we'll leave it at that.

Popped a Xanax, courtesy of Anj, and zoned into my iPod (yay for appropriated video of "Arrested Development!"). Said Xanax did little if nothing noticeable, but at least when we arrived to claim our baggage (damn having to check a bag for a mere hour flight because I need my toothpaste!) and car I wasn't zonked out.

Speaking of rental cars, we were upgraded, which is always nice. The last time I rented with Hertz I was upgraded as well, and I'm not even a member of their VIP club, so that was a welcome surprise.



Our rental ride -- it's a far cry from my first car, a 1990 Limited Jeep Cherokee!

We cruised directly to the hotel, which was embarrassingly close to the airport, spitting distance really. Anj wanted to find a Target or something of the sort to pick up some shampoo and such and we headed off to find one on the (poor) directions from the front desk gal.

We ended up at South Coast Plaza , one of the best malls ever. It's been about six years since I was last there, and so much has changed! It was hard to limit our time to a mere hour before departing to meet my aunt and cousins for dinner.

We ate at a Mexican restaurant in Irvine near where my aunt works and it was pretty decent. Cousin J brought along a friend, Tom, who was beyond obnoxious, and this was before he started drinking. Cousin T showed up uber late, as he's working ridiculous hours these days. So goes the world of loans, I guess! Dinner was nice, and it was good to catch up with everyone, even Tom did put his two cents in far too often with punk-ass and completely inappropriate sexist comments. Even my aunt, who has known him for years, was apologizing on his behalf, which I didn't think was her responsibility. If a 32 year-old man wants to live at home and can't take the teasing about not doing his own laundry, it's his problem!

We said our good-byes at dinner, but before Anj and I were out of the parking lot, J called and invited us to a bar where his friends were hanging out. We ended up here and a good time was had by all. J bought me a couple of beers, introducing me to my new fave hefeweisen, Hacker-Pschorr, making Pyramid's version taste like utter crap. I also got a pint of Franziskaner on the advice of Tom. Speaking of Tom, I'm still wondering if he made it home okay -- he drank enough to make a Russian wince. Anj and I split a little after midnight, stopping for something sweet (yay for IHOP serving shitty food 24 hours a day! Boo for having to pay $7 for an ice cream sundae!) on the way back to the hotel.

I always wake up early, even when I'm on vacation, and Friday morning was no exception. I thought I might sleep in a bit because I didn't end up falling asleep until about 2:30, but I was awake by 7:30 and ready to go by 8. I just figured we didn't have a ton of time to fit in all the things we wanted to do, and that we'd better get a move on!

We were on the road to Balboa Island in about an hour.

I was proud of myself that I didn't spend too much money, just some coral pieces for my coffee table. But I did more window shopping than picture taking, so these'll have to suffice:


Balboa Island



One of the many Balboa houses I fell in love with



Bluth's Original Frozen Bananas -- it was so yummy! And very "Arrested Development"

We left Balboa about 3-ish and headed down PCH toward Laguna, ogling the beautiful homes along the way.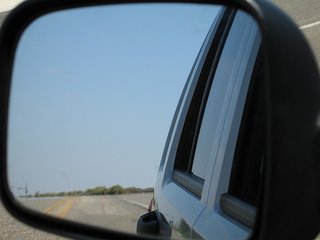 Cruising down PCH on the way to Laguna (like, totally)

We found awesome metered parking about a block from the beach and grabbed a quick late lunch at a hole-in-the-wall place that was really freaking good.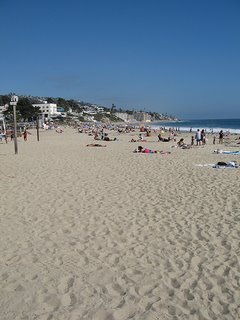 The real Laguna Beach

We hung out on the beach for a while and dipped our toes in the freezing water. I don't want to hear anything more from uppity Southern California folks that our water is cold up north, as my toes ached -- the water was so cold! Anj removed her sandals before dipping her toes in, but neglected to actually pick up her sandals, and the with the next wave that came in, they were washed out. I was laughing too hard to be of any help, but there was a kind woman already half in the water that fished them out for her. Consequently, Anj had water and sand halfway up her calves from this little adventure.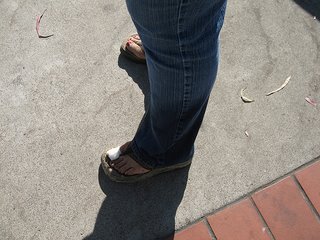 Anj's sandy sandals

We did some window shopping before leaving the beach, where upon we booked it back to the car in fear of getting a ticket.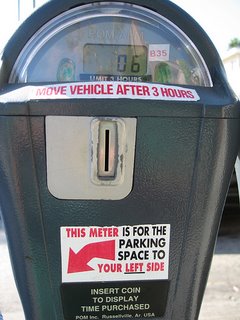 Whew, just made it!

We ended up sitting in traffic to get to 405, then traffic on 405 to get back to Newport Beach. This left us little time to get ready before we had to book it back down to Irvine to see the show. Which was damn good, by the way, even if my DMB fanatic-ness has waned. The setlist was great, the atmosphere was great and the ease of getting in and out of the venue was unparalleled. Instead of eating at the show, we capped off our evening with some greasy Pizza Hut fast food in the hotel room while watching Conan O'Brien.
The hotel was merely mediocre, but what are you going to do for a package deal with Travelocity that cost a little over $300 per person? But the bathtub was dirty upon arrival and I'm still trying to resolve a mystery $200 "internet kit" charge that was posted to my account on the day of departure.
The trip back was uneventful, and I was able to relax on the way back (prolly thanks to the 1.5 Xanax I downed this leg of the flight) and although it was altogether too short, it was nice to get away.
I arrived home and chilled for about an hour before I left to baby-sit for four rug rats.
And that's a story in itself.