My spending this week has been out of control.

At the end of last week I was smarting to Jewels that I had been really good at saving and watching my spending, not eating out as much, etc.

I need to eat everything I said in that conversation, because, well, yeah -- there goes all that savings-related goodness.

I "treated myself" to a couple of things on eBay, including a hard-to-find fragrance. So even when I'm poor I'll stink good.

I had my eye on a jacket last year but couldn't justify buying it, as it doesn't really get cold enough here to wear something so insulating. But enter Sundance in January and I have a whole new excuse to buy something. So while I was in Palo Alto on Saturday, I made a stop at the North Face and found the same jacket I pined over last year: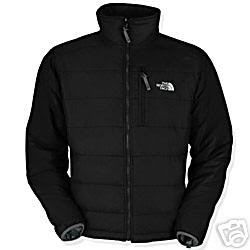 It's made with a down alternative, but not marshmallow-y at all, and hopefully will be warm enough for the Utah trip as well as winter activities (yay for cross-country skiing and snow-shoeing!).
Of course, my main reason for heading to Palo Alto in the first place was to buy the foam for the sun deck/bench in my backyard, so that was an added (hefty) expense -- since foam is 100% petroleum, the price has gone up exponentially. It'll be ready tomorrow, and I'm anxious to complete the bench. Just in time for winter! /sarcasm
While in Palo Alto, Jewels and I made a stop at Stanford, where I treated myself to a new lipstick (it's so freaking awesome) and the Benefit brow filler at Sephora. Truth be told, I was needing both of these pretty badly. I went to a new lady to wax my brows and she effing scalped me, so now I need to fill 'em in while they are in that nasty growing-in phase. The lipstick choice (Vincent Longo), done by one of Sephora's finest, left me with doubts, but then I tried it on. I feel so growed up with my growed up lipstick!
Then we headed over to Nordstrom and Crate and Barrel, where I bought shoe stuffs at the former and Christmas ornaments at the latter.
Yesterday had me heading to Barnes and Noble, Trader Joe's and Tower Records. I did well at the first two stops, then all hell broke loose at Tower. I mean, c'mon -- the CDs are now 40% off, and the DVDs 30% off!
I came away with 2 CDs for gifts for mom and dad, 8 for myself and a DVD that's been on my wishlist for years. Their used CD section was completely picked over, but I managed to find Guster's "Keep It Together" for $4.79 after all the discounts on the used rack. That was the best deal I got, although $15 for a double CD for my father isn't bad either. I also bought Sia "Colour the Small One," Rilo Kiley "Takeoffs and Landings," The Smashing Pumpkins "Greatest Hits," Regina Spektor "Begin to Hope," Gnarls Barkley "St. Elsewhere," Wilco "Yankee Hotel Foxtrot" and The Essential Simon and Garfunkel. I'm thinking of going to a different Tower when I go to pick up the foam mattress tomorrow to check out what's left of their used section as well as their books -- the Tower I went to today doesn't carry books. I'm sad that Tower isn't going to be around any more. I wrote a while back that there's something about buying CDs that buying mp3s just doesn't match.
How I got into writing about spending MORE money when I was writing about spending LESS is beyond me.