My friend Sarah starts listening to Christmas music seemingly halfway through the year. We always give her a hard time about it, saying her husband has no idea what he's in for. I think I need to tone down my laughter at her overzealous holiday spirit, as I downloaded Diana Krall's "Christmas Songs" from iTunes and, despite the weather being in the high 70s, am currently trying to picture a winter wonderland as I cozy up on the couch in my robe. It's really not even robe weather, and quite frankly, I'm roasting, but I figure Thanksgiving is this week and damn it, it should be cold outside. Yeah, I'll be crying the blues when I can't rock the Reefs outside, but it makes it hard to believe it's November when the weather is perfect for beach-going.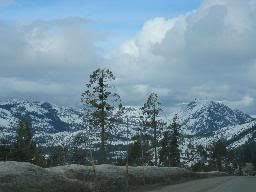 Tahoe, February 2004
In more holiday-spirit related news, I did some shopping yesterday, crossing mom and sister off the list, and sister was a double-whammy--I got her bday stuff taken care of, too. I made the executive decision not to exchange gifts with Matt this year, or at least until we see how kind Uncle Sam is to this homeowner. We tend to go all out on each other, spending wise, and the funds are currently tied up with home improvement-type plans.
Dad made the decision to have our company holiday party on a) a weekday, and b) sister's birthday. Yikes! It'll be my first attending as an official company employee, as we've not had one for several years now. I'm guessing by having it on a Thursday night he's trying to cut the cost, but he says it's the only December night available for our large group at his
desired restaurant
. At any rate, it'll be...interesting.